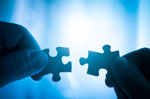 Hundreds of residential communities, adult education programs, insurers, clinicians, and other groups and individuals offer our exercises to their customers, helping them stay sharp at any age. These partners choose our program because of the Posit Science commitment to research and clinical evidence that our programs make meaningful changes in people's lives.
BrainHQ makes it easy to partner with us and bring clinically validated brain training to your customers.
Give access to 25+ exercises and hundreds of training modules to your customers
Feel confident you are offering the best science in brain fitness
Reassign licenses with our easy-to-use portal
Contact Us
If you would like to learn more about offering our exercises to your clients or customers, please contact us by email or calling 613-454-5129.