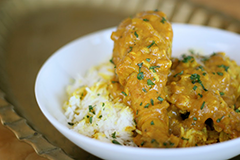 Brain Healthy Ingredients: Chicken, Cinnamon, Garlic, Onions, Turmeric Learn more
This is a standout dinner party meal that everyone likes, with a great balance of sweet, sour, and spicy flavors.
Tip:
If you like spicier food, you can add hot chili flakes to taste with the other dry spices.
Ingredients (serves 6-8):
3 pounds chicken thighs, skinless, bone-in
1/3 cup flour
4 tablespoons vegetable oil
2 medium onions, sliced thinly
3 garlic cloves, chopped
2 tablespoons sugar
2 tablespoons fresh ginger root, chopped
1 tablespoon paprika
2 tablespoons turmeric
1 teaspoon cinnamon
1 teaspoon ground coriander
1/4 teaspoon ground cardamom
1/2 teaspoon cracked black pepper
1/3 cup red wine vinegar
1 3/4 cups chicken broth
Preparation:
Heat 3 tablespoons oil over medium high heat.
Dredge chicken pieces in flour to coat and brown chicken on both sides. Remove from pan and set aside.
In the same pan, add remaining tablespoon of oil, onions, and garlic and cook until soft and golden brown. Add sugar and spices. Cook and stir for about a minute, then add vinegar and broth.
Add chicken, cover, and simmer for 30 minutes. Taste sauce and add salt if necessary. Serve chicken and sauce over a bed of basmati rice with a simple green salad on the side.
Author: off the (meat)hook