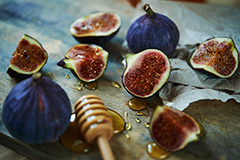 Brain Healthy Ingredients: Cinnamon, Nuts & Yogurt Learn more
This is an easy, healthy breakfast you can put together pretty quickly - especially if you bake the figs the night before.
Tip:
You can use any kind of fresh figs for this recipe, but it works best with dark-skinned figs that are firm and not too soft to the touch.
Ingredients (serves 4):
3 Tablespoons honey, divided
1 teaspoon vanilla
1/2 teaspoon ground cinnamon
large pinch of salt
9 fresh figs, stemmed and quartered
2 1/2 cups plain Greek yogurt
Preparation:
Heat oven to 350 degrees F. Prepare a baking sheet with parchment paper or foil.
In a bowl, combine 1 Tablespoon honey and vanilla. Add figs and stir gently to coat the fruit. Arrange figs, cut side up, on the prepared baking sheet. Sprinkle with cinnamon and salt.
Bake figs at 350 degrees F for about 10 minutes, until figs begin to bubble. Remove from oven and cool completely.
Combine remaining 2 Tablespoons honey with yogurt. Divide the yogurt among 4 bowls and top with figs. Serve immediately.