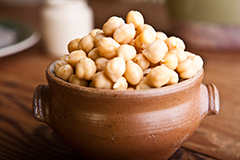 Brain Healthy Ingredients: Legumes, Onions, Tomatoes, Turmeric Learn more
Garbanzo beans and other legumes are rich in folic acid—great for the developing brain. Pregnant women should make sure to get an adequate supply of folic acid to ensure good brain health for their babies.
Tip:
Using whole instead of powdered dried spices will give you a much brighter, fresher flavor.
Ingredients (servers 2-4):
1 15-oz can chickpeas, drained and rinsed, or 1 ½ cups home-cooked chickpeas
3 Tbsps vegetable oil or clarified butter, divided
1 Tbsp black mustard seeds, divided
1 tsp fennel seeds
1 tsp cumin seeds
1 tsp coriander seeds
2 cloves garlic, minced
½ medium onion, diced finely
1 medium tomato, cored, diced finely (can substitute canned diced tomatoes)
1 1/3 cups white mushrooms, quartered or thickly sliced
1 small, hot red chili pepper, thinly sliced (add gradually)
1 Tbsp fresh grated turmeric (can substitute 2 tsps dry turmeric)
¼ tsp cinnamon
1 pinch ground cloves
¼ tsp cayenne pepper
2 Tbsps lemon juice
1 tsp salt
Cilantro for garnish
Preparation:
Drain and rinse chickpeas. Place them in a saucepan with water to cover, then bring to a boil and simmer until soft. (You can skip this step if your chickpeas are already soft.)
In a large skillet, heat 2 tablespoons oil or clarified butter over a medium-high flame. Add 2 teaspoons mustard seed, fennel, cumin, and coriander seeds. Cook for about 10-20 seconds until the mustard seeds begin to pop. Immediately add the garlic, onion, and tomato.
Cook, stirring occasionally, for about 5 minutes until the liquid is mostly gone and everything is browning.
Drain the chickpeas and add them, with mushrooms, a small amount of the hot pepper, turmeric, cinnamon, cloves, cayenne pepper, lemon juice, 1 teaspoon of salt, and a cup of water. It will be soupy.
Cook uncovered over a medium-low flame for about 15 minutes, until the sauce begins to thicken. Does it need more salt? More lemon juice? A bit more cayenne? Finish for the texture you want.
In a separate skillet, heat the remaining tablespoon of oil over a high flame and fry remaining 1 teaspoon mustard seeds until they pop. (This is called tempering, and is a great way to add a final layer of flavor.) Toss the contents of that skillet over the chickpeas, garnish with cilantro, and serve.
Note: Chili peppers can be extremely hot with the seeds containing most of the heat. It is a good idea to remove the seeds, mince the pepper and gradually add it in (until you achieve the heat you prefer) and add the seeds if necessary. It is important to always wash your hands after handling a hot pepper, because the heat can remain on your hands and transfer to your eyes, face, etc.
Author: Michael Natkin: herbivoracious.com