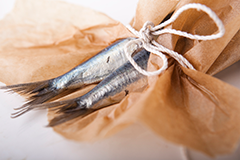 Brain Healthy Ingredients: Cold water fish, Legumes, Olive Oil Learn more
Sardines are excellent sources of Omega-3 fatty acids. They have particularly high concentrations of docosahexaenonic acid (DHA)—the omega-3 that seems to provide the most brain benefits. Studies suggest that increasing your intake of DHA and other omega-3s may provide neuroprotection throughout the lifespan, from the womb to old age. Among other things, omega-3s have been shown to protect brain health in newborns, improve cognitive performance in adults, and prevent or ameliorate age-related cognitive decline. Sardines are also high in vitamin B12, which has been demonstrated to be one of the most important vitamins for cognitive health and neuroprotection.
Tip:
When using a mandoline, most hand guards are awkward. Amy suggests using an oven mitt instead to protect your fingers and prevent injury.
Ingredients (serves 4):
8 sardines, water or oil packed, 3 ¾ oz (plain or smoked, no sauce)
4 celery stalks
1 15 ½ oz can chickpeas, drained and rinsed
¼ cup flat leaf parsley, chopped
2 Tbsps freshly squeezed lemon juice
1 Tbsp extra virgin olive oil
½ tsp ground cumin, preferably roasted or toasted
¼ tsp kosher salt
Pinch of freshly ground pepper
Preparation:
Wash the celery and trim the tops and bottoms. Use a mandoline or a sharp knife to cut each celery stalk into very thin slices, diagonally. Combine the celery slices with the chickpeas and parsley in a serving bowl.
In a small bowl whisk together the lemon juice, olive oil, cumin, salt and pepper to taste. Toss the salad with the dressing and allow to sit at room temperature for 10-15 minutes to allow the flavors to meld.
Remove the sardines from the tin, and break each one into two pieces. Top each individual serving of salad with four sardine pieces. Serve at room temperature.
Author: Cooking with Amy: cookingwithamy.blogspot.com