Published Research on BrainHQ and Memory
Of all cognitive abilities, memory is one that feels particularly important to many of us. Having a sharp, effective memory makes people more confident—having memory lapses can leave them feeling insecure.
To date, seventeen scientific papers—conducted by well-regarded researchers at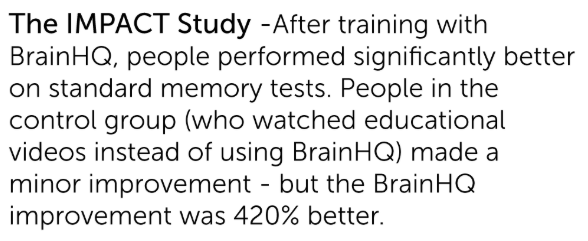 respected universities in a variety of populations—have shown that using BrainHQ exercises can have a substantial impact on memory performance. Here are some highlights:
The IMPACT study—a large study from researchers at the Mayo Clinic and the University of Southern California—followed 487 people, and showed an average improvement of 10 years in auditory memory…meaning that if you began the study with a memory typical of a 52-year-old, you would (on average) leave with a memory typical of a 42-year-old. Two smaller studies showed similar results.
Multiple research papers have demonstrated "generalization" beyond trained tasks to standard memory tests. This is very important, and rarely shown for any other brain-training program. It means that the memory gains represent a real change in cognition, not just an improvement in a memory strategy.
Two small imaging studies (conducted at the University of California San Francisco and Stanford) showed that using BrainHQ exercises increased activity in areas of the brain associated with memory.
Information and citations for memory-related articles
"A cognitive training program based on principles of brain plasticity: results from the improvements in memory with plasticity-based adaptive cognitive training (IMPACT) study"
Published in: Journal of the American Geriatric's Society
Lead authors: Glenn Smith, PhD, Mayo Clinic and Elizabeth Zelinski, PhD, University of Southern California
View article
"Improvement in memory with plasticity-based adaptive cognitive training: Results of the 3-month follow-up"
Published in: Journal of the American Geriatric's Society
Lead authors: Glenn Smith, PhD, Mayo Clinic and Elizabeth Zelinski, PhD, University of Southern California
View abstract
"The influence of perceptual training on working memory in older adults"
Published in: PLoS One
Lead author: Anne S. Berry, PhD, University of California, San Francisco
View article
"Memory enhancement in healthy older adults using a brain-plasticity-based training program: A randomized, controlled study"
Published in: Proceedings of the National Academy of Sciences
Lead author: Henry Mahncke, PhD, Posit Science
View article
"Brain plasticity and functional losses in the aged: Scientific bases for a novel intervention"
Published in: Progress in Brain Research
Lead author: Henry Mahncke, PhD, Posit Science
View abstract
"A combination of physical activity and computerized brain training improves verbal memory and increases cerebral glucose metabolism in the elderly"
Published in: Translational Psychiatry
Lead author: Tejal Shah, PhD, University of Western Australia
View article
"Using neuroplasticity-based auditory training to improve verbal memory in schizophrenia"
Published in: The American Journal of Psychiatry
Lead author: Melissa Fisher, PhD, University of California, San Francisco
View article
"Feasibility of computerized brain plasticity-based cognitive training after traumatic brain injury"
Published in: Journal of Rehabilitation Research & Development 
Lead author: Matthew S. Lebowitz, Yale University
View abstract
"Nurse-enhanced memory intervention in heart failure: The MEMOIR study"
Published in: Journal of Cardiac Failure
Lead author: Susan J. Pressler, PhD, University of Michigan School of Nursing
View article
"Advanced cognitive training for breast cancer survivors: A randomized controlled trial"
Published in: Breast Cancer Research and Treatment
Lead author: Diane Von Ah, PhD, Indiana University School of Nursing
View article
"Computer-based cognitive training for mild cognitive impairment: results from a pilot randomized, controlled trial"
Published in: Alzheimer Disease and Associated Disorders
Lead Author: Deborah Barnes, PhD, University of California, San Francisco
View article
"Computerized auditory cognitive training to improve cognition and functional outcomes in patients with heart failure: Results of a pilot study"
Published in: Heart & Lung
Lead Author: Ponrathi Athilingam, PhD, ACNP, MCH, FAANP, University of South Florida
View abstract
"Neural plastic effects of cognitive training on aging brain"
Published in: Neural Plasticity
Lead Author: Natalie T.Y. Leung, The University of Hong Kong
View abstract
"Reversal of age-related neural timing delays with training"
Published in: Proceedings of the National Academy of Sciences
Lead Author: Samira Anderson, PhD, Northwestern University
View article
"Computerized auditory cognitive training to improve cognition and functional outcomes in patients with heart failure: Results of a pilot study"
Published in: Heart & Lung: The Journal of Acute and Critical Care
Lead Author: Maya Guglin, MD, University of Kentucky, Lexington, KY
View article
"A randomized study of cognitive remediation for forensic and mental health patients with schizophrenia"
Published in: Journal of Psychiatric Research
Lead Author: Peter F. Buckley, MD, Georgia Regents University
View article
"Gains in cognition through combined cognitive and physical training: the role of training dosage and severity of neurocognitive disorder"
Published in: Front Aging Neurosci
Lead Author: Panagiotis Bamidis, PhD, Aristotle University of Thessaloniki
View article