BrainHQ and Visual Rehabilitation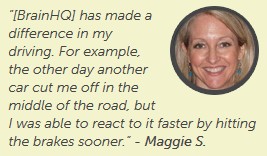 In over 60 peer-reviewed publications, BrainHQ exercises have been proven to demonstrate significant improvements in visual perception and cognition. These improvements translate into safer driving, improved visual working memory, a 50% reduction in auto crashes, and an improvement in basic daily living skills. In some studies, only 10 hours of BrainHQ training had lasting effects that persisted for more than five years.
Background
People who suffer traumatic brain injury, stroke, or other neurodegenerative diseases often have accompanying visual disturbances or impairments. These visual field, motor, perception, and cognitive symptoms can prevent a full recovery by interfering with everyday function. For example, people may have trouble seeing fine details, reading, or noticing objects in peripheral vision. In daily life, this can affect driving, walking, navigation, and other important practical aspects necessary for a full and healthy life.
Visual Rehabilitation: New Options For Treatment
If you are a clinician or healthcare professional interested in learning more about visual rehabilitation and how you can use BrainHQ with your patients, please contact us for further information.