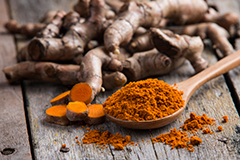 Brain Healthy Ingredients: Nuts, Turmeric Learn more
This variation on semolina and turmeric cake (called sfouf in Lebanon) is light and not-too-sweet...the perfect accompaniment to a cup of tea or coffee. The turmeric and almonds add an unusual brain boosting combination.
Tip:
To serve this cake in the traditional way, don't cut it into slices. Instead, cut it into small squares or diamonds.
Ingredients (serves 8-12):
1 1/2 cups semolina flour
1/2 cup all-purpose flour
1 teaspoon baking powder
1 teaspoon ground turmeric
1 1/8 cups white sugar
1 cup milk
1/2 cup melted butter
1/2 cup slivered or blanched almonds
Preparation:
Preheat oven to 350 degrees.
Mix semolina, flour, baking powder, and turmeric and set aside.
In a separate bowl, mix milk and sugar until sugar is dissolved. Add flour mixture and melted butter and beat together.
Pour the batter into a greased, 9-inch round pan. Add almonds to the top.
Bake at 350 degrees for 25-30 minutes or until golden brown.