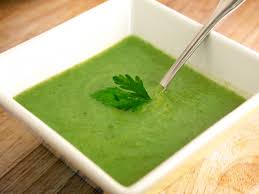 Brain Healthy Ingredients: Cruciferous vegetables, dark leafy greens, Olive Oil & Onions Learn more
This delicious soup doubles up on green leafy veggies for an extra dose of brain-boosting antioxidants.
Tip:
Don't skip the carrot—it adds a bit of sweetness to the soup.
Ingredients:
1 tablespoon olive oil
½ cup onion, chopped
1 carrot, peeled and grated
2 cloves garlic, chopped
5 cups chicken stock or vegetable stock
2 cups broccoli florets
1 small bunch kale, leaves stripped off stalk
1 cup nonfat or lowfat milk or plain yogurt
Preparation:
Heat olive oil in soup pot over medium heat. Add onions and carrots and cook 4-5 minutes, until fragrant and just starting to brown.
Add garlic and cook 30 seconds.
Add broccoli and stock to pot and cook 7 minutes. Add kale and cook for 3 more minutes.
Remove from heat and puree with a hand blender or in batches in a regular blender.
Stir in milk and reheat to a simmer (do not boil). Serve immediately with crusty bread.