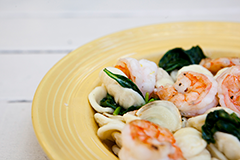 Brain Healthy Ingredients: Cold water fish, Cruciferous, vegetables & dark leafy greens, Garlic Learn more
Shrimp has some of those brain-boosting DHAs, but also offers a dose of vitamin B12, which has been demonstrated to be one of the most important vitamins for cognitive health and neuroprotection.
Tip:
Shrimp need to be kept cold, so if you are peeling and deveining them yourself, be sure to keep them on ice or in a bowl of ice water while you're working with them.
Ingredients (serves 2):
½ lb orecchiette (or your favorite small pasta)
12 uncooked shrimp, peeled and deveined
4 large garlic cloves, peeled and cut into thin slices
2 cups baby spinach leaves
Juice and zest of ½ lemon
3 Tbsps freshly grated parmesan cheese
Extra virgin olive oil for sautéing
Salt and freshly ground pepper
Preparation:
Cook pasta according to package directions.
Meanwhile, put a good drizzle of olive oil in a pan on medium low heat. Add the garlic slices. Cook until the garlic flavors the oil and turns a light shade of golden brown, about 4-5 minutes. Remove garlic from pan with a slotted spoon and reserve.
Add the shrimp to the pan and season to taste with salt and pepper. Increase heat to medium. As soon as the shrimp turns opaque and pink in color, add the spinach leaves and drizzle with a little more olive oil. Season again with salt and pepper.
Once the pasta is cooked, drain it and add it to the pan with about a teaspoon of the pasta water and gently stir everything together. Add the lemon juice and zest, garlic chips, and Parmesan cheese. Drizzle with a little extra virgin olive oil and serve immediately.
Author: Jennifer Bartoli: chocolateshavings.ca