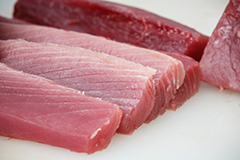 Brain Healthy Ingredients: Cold water fish, Cruciferous vegetables & dark leafy greens, Garlic, Olive Oil, Onions, Tomatoes Learn more
Mentally transport yourself to the Mediterranean while enjoying this gratifying combination of brain-boosting nutrients.
Tip:
For even more brain-healthy ingredients add cucumber slices to the sandwiches
Ingredients (serves 4):
1/4 cup extra virgin olive oil
1/2 cup red wine vinegar
1 teaspoon salt
1/2 teaspoon cracked black pepper
8 slices fresh whole grain bread
1 red onion, sliced very thinly
1 tomato, chopped
2 cans albacore tuna in water, drained
2 tablespoons capers
1 cup spinach leaves, chopped
2 cloves garlic, sliced lengthwise
Preparation:
Preheat oven to 350
Whisk oil and vinegar in a bowl together with salt and pepper, and marinate onion slices and tomatoes in it for about 10 minutes.
Meanwhile, rub cut side of garlic onto bread and toast bread slices. Set aside.
Remove tomatoes and onions from marinade and put into a larger bowl, reserving marinade. Combine tuna, capers, and spinach with tomatoes and onions.
Divide tuna mixture among 4 slices of bread. Drizzle with a bit of the reserved marinade and top with remaining bread slices.