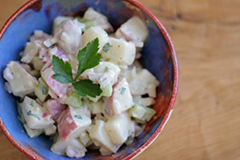 Brain Healthy Ingredients: Eggs, Olive Oil, Onions & Yogurt Learn more
This is a great way to lighten up your potato salad while still keeping it creamy, tangy, and super satisfying.
Tip:
Treating the onion with boiling water softens the onion in both texture and flavor.
Ingredients (serves 6-8):
2 pounds red potatoes, cleaned but unpeeled, chopped into bite-size pieces
1 medium red onion, diced
1/3 cup red or white wine vinegar
1 garlic clove, minced finely
2 teaspoons Dijon mustard
1/4 cup olive oil
1/2 cup plain yogurt
3-4 stalks of celery, diced
2 Tablespoons fresh flat-leaf parsley, chopped finely
2 hard-boiled eggs, diced
salt and pepper
Preparation:
Boil or steam the potatoes for about 15 minutes, until tender and cooked through. Remove from heat and drain. Let cool to room temperature.
Meanwhile, place onion in a bowl. Pour on boiling water to cover. Immediately drain and rinse with cold water. Transfer to a large bowl.
Add vinegar, garlic, mustard, olive oil, and yogurt to the onion and whisk to combine.
Add potatoes, celery, parsley, and eggs to the large bowl with the dressing. Season with salt and pepper. Toss gently until well coated.
Refrigerate for 1-4 hours before serving.