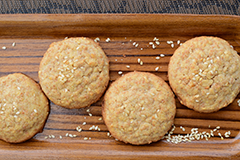 Brain Healthy Ingredients: Olive Oil & Sesame Learn more
These tasty cookies will fulfill your sweet tooth without added sugar. Plus, the tahini and sesame seeds are a good source of lignans—chemicals that some studies suggest may improve cognitive performance.
Tip:
To make the date paste this recipe calls for, pour 2/3 cup hot water over a cup of pitted medjool dates. Let them soak for an hour, then blend in a food processor. You can use this fruit-based sweetener as a substitute for sugar in smoothies, snacks, and more!
Ingredients (serves 8-12):
1 ½ cups whole wheat flour
½ tsp baking soda
½ tsp salt
¼ cup tahini
¼ cup olive oil
2/3 cup date paste
1/3 cup sesame seeds
Preparation:
Preheat oven to 350 degrees.
Start by combining the flour, baking soda, and salt in a large mixing bowl.
In a separate bowl, whisk together the date paste, tahini, and olive oil.
Mix the wet ingredients with the dry ones. It should be sticky enough to form into balls. If it's too sticky, you can thin it a little milk.
Put the dough in the fridge for 30 to 60 minutes.
Use your hands to roll dough into 1 ½ inch balls.
Roll each ball into a bowl of sesame seeds until it is entirely coated.
Press the ball onto a parchment-lined baking sheet.
Bake cookies for 10 minutes, or until they're golden brown.