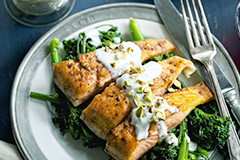 Brain Healthy Ingredients: Cold water fish, Cucumbers & Yogurt Learn more
Arctic Char is a fish that falls somewhere between salmon and trout in both flavor and texture. It's a terrific source of Omega-3 fatty acids!
Tip:
If you can't find arctic char, you can substitute salmon or red snapper in the recipe.
Ingredients (serves 4):
1/2 cup plain Greek yogurt
1/4 cup peeled and finely chopped cucumber
2 Tablespoons chopped fresh cilantro
juice of 1 lime
2 teaspoons olive oil
4 arctic char fillets, about 5-6 oz each
lime wedges for serving
salt and pepper
Preparation:
In a small bowl, combine yogurt, cucumber, cilantro, and lime juice. Season with one or two large pinches of salt.
Heat olive oil in a nonstick saute pan over medium high heat. Season fish fillets with salt and pepper on both sides. When oil is hot, add fillets to pan in a single layer.
Cook about 3-4 minutes per side, until cooked through.
Remove fillets to serving plate and drizzle sauce over the top. Garnish plate with lime wedges.