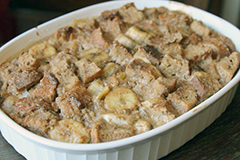 Brain Healthy Ingredients: Bananas,Cinnamon, Eggs & Nuts Learn more
This banana bread pudding gets its sweetness from bananas and raisins, so there's no need to add sugar. The almonds, bananas, cinnamon, and eggs all offer potential benefits for brain health, too.
Tip:
The best bread for this recipe is a soft white bread, such as challah or brioche, that has been allowed to dry.
Ingredients (serves 4-6):
7 cups dry bread cubes (about 1 ½ inch each)
3 cups whole milk
¾ cup heavy cream
3 eggs
3 ripe bananas
1 Tbsp vanilla
1 Tbsp ground cinnamon
¼ tsp ground nutmeg
½ tsp salt
1 cup sliced almonds
1 cup golden raisins
Butter (to grease a baking dish)
Preparation:
Preheat the oven to 325 degrees.
Use a blender to mix together two bananas with the milk, heavy cream, eggs, vanilla, cinnamon, nutmeg, and salt.
Place the bread cubes, nuts, and raisins in a large mixing bowl. Add one sliced banana.
Add the blended banana mixture to the dry ingredients and mix gently.
Pour into a buttered baking dish. Then place the baking dish in a larger baking dish. Pour hot water in the larger dish halfway up the side of the pudding dish to create a water bath.
Bake pudding for one hour.