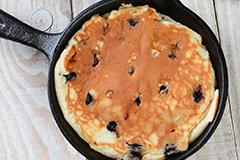 Brain Healthy Ingredients: Blueberries and dark berries, Eggs, Nuts & oats Learn more
A study from New Zealand had found that blackcurrants may improve mental performance and boost mood. The study was small–with just 28 participants–but the results statistically significant. Comparing 2 types of blackcurrant juice and a matched placebo drink, the researchers saw improved attention and mood and decreased fatigue in the two blackcurrant groups but not in the placebo group.
This brain healthy pancake recipe featuring dried blackcurrants also includes walnuts, oatmeal, and eggs.
Tip:
Having trouble finding dried blackcurrants? You can easily order them online.
Ingredients:

2 eggs
1 cup milk
2 cups quick-cooking oats
1/2 cup dried blackcurrants
1/2 cup walnuts, chopped finely
2 teaspoons coconut sugar (can substitute brown sugar)
1 teaspoon vanilla extract
Butter, oil, or cooking spray
Preparation:
Whisk eggs and milk together in a bowl.
Add oatmeal, blackcurrants, walnuts, sugar, and vanilla and mix well.
Heat a saute pan or griddle over medium high heat. Add butter, oil, or cooking spray. Pour or spoon batter into the pan.

Brown on both sides and serve immediately with syrup, jam, or yogurt.