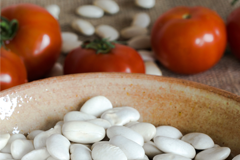 Brain Healthy Ingredients: Garlic, Legumes & Olive Oil Learn more
A panade is a dish that's thickened with bread. It's a great way to use leftover bread, and makes for a hearty, rustic meal.
Tip:
If the panade tastes bitter after cooking, add a bit more brown sugar to mellow it out.
Ingredients (serves 4):
1 tbsp olive oil
1 onion, diced
4 cloves garlic, minced
1 28-ounce can diced tomatoes
1 cup chicken broth
1 tbsp brown sugar
1 tsp dried oregano
1 tsp dried thyme
3 slices of thickly cut, day-old white bread
1 16-ounce can of cannellini beans
1/2 shredded cup parmesan or romano cheese, plus extra for garnishing
Preparation:
Heat olive oil in a large pot over medium heat. Add onion and about one teaspoon of salt, and sauté until translucent, about five minutes. Add the garlic and sauté until fragrant, about thirty seconds.
Pour in the tomatoes, juices, and broth. Add brown sugar. Increase heat to bring the soup to a boil, then reduce to a simmer. Simmer for ten minutes.
Add the bread and beans, and stir to combine. Simmer for another five minutes or until the bread has soaked up the majority of the broth and become mushy.
Stir in the cheese and taste for seasonings. Add more salt and brown sugar as needed.
Garnish with a sprinkle of cheese and serve immediately.