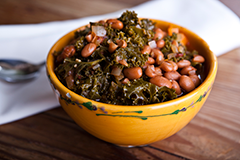 Brain Healthy Ingredients: Cinnamon, Cruciferous vegetables & dark leafy greens, Dark chocolate, Garlic & Legumes Learn more
Like other leafy dark green vegetables, kale is full of brain-boosting antioxidants.
Tip:
Did you know that sometimes dried beans purchased from the supermarket are up to ten years old? Try to find fresh, dried beans- they cook faster and are much more delicious!
Ingredients (serves 6-8):
4 cups dried pinto beans
2 tbsp extra virgin olive oil
1 onion, chopped
3 cloves garlic, minced
1 large carrot, chopped
2 ½ cups kale leaves, stem and center rib removed, chopped (note: any type of kale can be used)
1 cup tomato sauce
3 tbsp chili powder (or to taste)
1 tbsp dried oregano
1 tsp cinnamon
1 tsp dark chocolate cocoa powder
1 canned chipotle pepper in adobo sauce, minced, with 1 tsp-1 tbsp adobo sauce reserved
Sea salt
Freshly cracked black pepper
Preparation:
Rinse beans and place in large pot and cover with 8 cups water. Allow to soak overnight.
The next day, heat olive oil in a pan and sauté onion, garlic, carrot, and kale until onions are translucent. Add to bean pot.
Add tomato sauce, chili powder, oregano, cinnamon, cocoa powder, chipotle, and adobo sauce to pot. Bring to a boil, stirring occasionally. When boiling, reduce heat to a simmer, cover and cook for approximately one hour. Add extra water if necessary.
Beans are ready when they mash easily when pressed with the back of a spoon. Remove from heat and add salt and pepper to taste.
Beans can be kept in refrigerator for a few days, or frozen for up to three months.