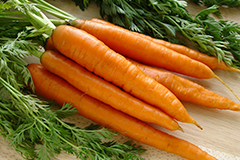 Brain Healthy Ingredients: Cinnamon, Onions, Turmeric, Winter Squashes & Carrots Learn more
Beta carotene, which gives carrots their orange color, is a powerful antioxidant. Several studies suggest that a low level of beta carotene (a form of vitamin A) is associated with poorer cognitive function, and that increased intake of beta carotene may protect against cognitive decline in older adulthood.
A couple of large, long-term studies have found that people who regularly eat beta carotene-rich foods have significantly better memories and verbal skills than those who don't. Carrots also boast a healthy dose of vitamin C, folic acid, and niacin, which also offer brain benefits—with a very low caloric load.
Tip:
If you don't feel like chopping. You can use baby carrots or pre-chopped carrots.
Ingredients (serves 4):
2 tablespoons olive oil
1 cup chopped yellow onion
1 pound large carrots, peeled, cut into 1/2-inch dice (about 2 2/3 cups
2 1/2 cups chicken or vegetable broth
1 1/2 teaspoons ground cumin
1 teaspoon ground turmeric
1/2 teaspoon ground cinnamon
1 tablespoon honey
1 teaspoon lemon juice
salt and pepper to taste
1/2 cup plain yogurt, stirred to loosen
Preparation:
Heat oil in large saucepan over medium-high heat. Add onion and sauté about 2 minutes, stirring. Mix in carrots. Saute a few more minutes to begin softening and browning a bit.
Add broth, cumin, cinnamon, and turmeric. Bring to boil. Reduce heat, cover, and simmer until carrots are very tender, about 20 minutes.
Remove from heat and puree in batches in blender until smooth. Return to pan and stir in honey and lemon juice. Season with salt and pepper to taste.
Serve with a drizzle of yogurt.