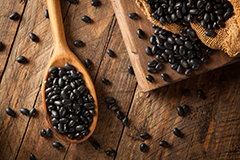 Brain Healthy Ingredients: Garlic, Legumes, & Olive Oil Learn more
This is a wonderfully delicious and fragrant way to enjoy black beans. You can serve them with tortillas and sour cream or as a side dish for any Mexican meal.
Tip:
You can use any type of spice you like, to your taste - ancho paste, chipotle peppers in adobo, Tabasco, chili flakes, you name it. Or, if you don't like spicy food, just omit the chiles altogether.
Ingredients (serves 4):
2 cups dried black beans
2 tsp dried oregano
1 tsp salt
2 tbsp olive oil
1 medium white or yellow onion, chopped finely
1 red bell pepper, chopped finely
3 cloves crushed garlic
2 tsp ground cumin
1 tbsp Tabasco sauce or chili powder (can use more or less depending on how spicy you like it)
juice of 2 oranges or 1/4 cup orange juice
juice of 1 lime or 1 Tblsp orange juice
1 tbsp white wine vinegar
Preparation:
Rinse beans and soak overnight in cold water.
When ready to cook, drain soaking water and rinse again.
Put beans in large pot with oregano, salt, and 5 cups of water. Bring to a boil then reduce heat to a simmer. Cook until beans are soft but not completely cooked - about 30-60 minutes.
Meanwhile, heat olive oil in a saute pan over medium heat and cook onions and peppers until soft. Add chili powder or Tabasco, cumin, and garlic, and saute about 30 seconds, until fragrant.
Remove cooking liquid from beans until there is about 1/2 inch of liquid above the beans. Reserve the excess liquid in case you need it later.
Add sauteed onions and spices to beans. Cook 45-60 minutes more until beans are thick and cooked through. Add reserved cooking liquid if you need to.
Turn off heat and stir in orange and lime juice. Taste and add salt or spice to taste.