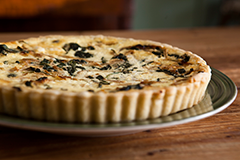 Brain Healthy Ingredients: Cruciferous vegetables & dark leafy greens, Eggs, Garlic & Olive Oil Learn more
Spinach and other leafy greens like kale and chard are true superfoods—packing in almost 400% of the recommended daily value of Vitamin A in just one cup. They are also full of brain-boosting antioxidants.
Tip:
Don't let excess dough go to waste. Roll it thinly, then sprinkle with seasonings such as, grated Parmesan, cumin or salt. Bake for 12-16 minutes at 400F, or until crisp. Serve with hummus for dipping.
Ingredients:
Crust
1 ¼ cups flour
½ cup cold water
¾ cup cornmeal, preferably stone ground
1 tsp fine-grain sea salt
¼ cup olive oil
Filing
1 Tbsp olive oil
1 large yellow onion, halved then thinly sliced
2 cloves garlic, minced
1 tsp fresh thyme leaves
12 oz baby spinach leaves (can substitute regular spinach leaves, roughly chopped)
6 oz cream cheese
2 eggs
1/3 cup milk, preferably 2%
Preparation:
Make the crust: In a medium bowl, whisk together the flour, cornmeal, and salt. Slowly add the oil in a thin stream while stirring constantly with a fork. Slowly add ½ cup cold water in a thin stream, stirring constantly with a fork, mixing until absorbed.
With your hand, work the dough until it just comes together into a ball inside the bowl. Turn dough out onto a surface dusted with cornmeal and roll into an 11 to 12-inch circle. Lightly oil a 9- or 10-inch tart pan and line the pan with the dough circle. Gently press into pan and remove excess dough from around the edges. Set the tart shell on a baking sheet and refrigerate while you prepare the fililng.
Make the filling: In a large skillet, heat the olive oil over medium heat. Add the onion and cook, stirring occasionally, until caramelized, about 20-25 minutes.
Add garlic and thyme and cook 1 minute more, stirring constantly. Turn the heat up to medium-high and add 1/3 of the spinach leaves. Toss the spinach around in the pan, mixing it with the onions, until it begins to wilt. Mix in the remaining spinach in two batches, until it is wilted and incorporated with the onions. Remove from heat and season to taste with salt and pepper.
Preheat the oven to 400 degress F. In a blender or food processor, combine the cream cheese, eggs, and milk and pulse until well mixed.
Spread the onion-spinach mixture over the bottom of the prepared tart shell, then top with the cream cheese mixture. Bake for 35-40 minutes, or until the egg is set and the top is a light golden brown. Remove from oven and let sit 10 minutes before slicing.