Return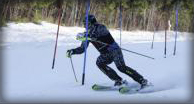 Dave Demko
When Dave Demko graduated college, he wanted nothing more than to compete as a professional skier. However, marriage and four children put a hold on his dream. After a 20-year hiatus from ski racing he was understandably cautious about challenging his younger and more experienced competition. But with the help of Posit Science and InSight, he has become one of the top skiers in his home state of Pennsylvania, ranking in the top 15 of 16 to 25-year-olds despite his age of 57, a feat he was told would be almost impossible.
"After my kids grew up, I felt I wanted to try to make a comeback in ski racing at the highest level of competition - The United States Ski Association (the base organization for the United States Ski Team). You've heard it said; 'Everybody loves a comeback.' Well, we all have comebacks to make. Maybe you had low grades in high school but made a comeback and graduated from college. Maybe you weren't a part of the 'in' crowd when you were young, but you worked hard and now you are a pillar in society; maybe you lost the weight after years of struggling; maybe you rehabbed from an injury; maybe you were bitter but now you've found joy. No matter what your comeback, that comeback journey starts with the mind. To me, I thought [InSight] can help my mind think fast, like the young people I'm going to compete against." For Dave, the inspiration to compete again came when he was volunteering at the World Cup ski races in Beaver Creek, Colorado. When he wasn't working to help maintain the race course, Dave got to ski along side the world cup racers by day and work out in their gym at night. These racers were the very same competitors that represent the best athletes the sport has to offer.
"The reason they're the best in the world is that they reduce the maneuvers to the simplest possible form, so that they're not making wasted movements. I looked at that and I said to myself, 'You know what? I can do that! I can do exactly what they're doing!'" he said. "These guys are not doing anything fancy. They're not doing anything I can't do physically, because they are simply aligning their skeletons with good posture to resist the forces, so they don't rely on massive physical muscles as their primary asset. So, the only thing left to conquer is the brain!"
Dave explained that the key to ski racing is taking the most direct route from each gate to the next, which means anticipating two or three gates ahead while making extremely sharp turns and making split second decisions when to start those turns. Dave quickly discovered that by increasing his peripheral vision and reaction time with InSight, he could anticipate the upcoming gates sooner and react to them more quickly.
"In ski racing the gates aren't set in a direct line; they're set at varying degrees of lines. You have to see in your peripheral what's going on to the left and right of you," he said. "When you're skiing at 60 miles an hour, that's 90 feet a second. So, you cannot take one full second to make a decision. Your mind has to think incredibly fast."
Dave did not grow up on skis like virtually all of his younger competitors did. InSight has been a critical part of Dave's training regimen, he said, helping him develop the mental agility that many of his competitors have routinely developed since childhood.
"If you're brain is working faster, your reactions are going to be better, and your confidence is maximized." he said. "You have to stay on the fastest line or you're going to get smoked."