Return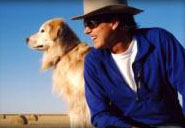 Lyn Morgan
Nothing's going to keep Lyn Morgan down. At 63 years old he's an avid hiker, boater and cross country skier, and this past summer he and his wife Joanne drove 5,000 miles through America's heartland in two weeks. That's where Posit Science and DriveSharp came in.
"I had read about DriveSharp and I thought 'well, I've never had any accidents...' but I thought it would be good to do this to keep myself sharp," he said. "I think those exercises really helped my awareness and peripheral vision. I would notice things in my periphery quicker, and that extends to things besides driving as well."
The road trip took them from their home in Avon, Colorado all the way to Connecticut and back through Virginia, Kentucky and Kansas City. It also inspired Lyn to embark on his next 5,000 mile trip, only this time he won't be using any roads.
"It's been in the back of my head for a number of years that I wanted to go down the Mississippi in a boat," he said. "When I did this road trip I started talking to people about it, and now it's turned into something bigger where I'm going to do the entire Great Loop."
The Great Loop is a massive boating route that heads down the Mississippi river into the Gulf of Mexico, up the entire Eastern seaboard and back through the Great Lakes. It's a lot to plan out, but Lyn says he enjoys the challenge.
"As far as I'm concerned, Posit Science is going to help me crunch all this information," he said. "My office is full of charts and electronics for the trip. I'll have all winter to plan for it."
Lyn has always had a wild curiosity, he said, but using DriveSharp and the Brain Fitness Program has helped him stay focused and confident. Brain fitness "can't help but be of help when you get ready to do these things," he said. "It keeps you nimble."